When you apply for a job via Workable, you have the option to import your resume details by uploading a file.
Click Import resume from and choose the source from which to upload your resume file (your local device or your Dropbox or Google Drive accounts):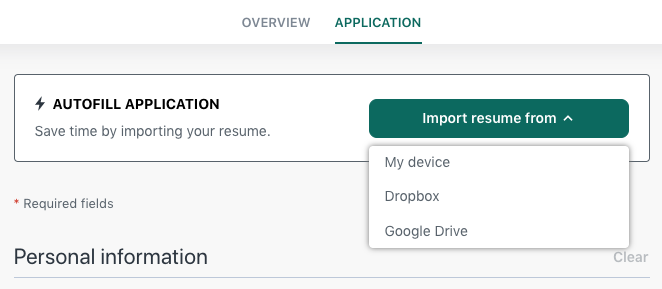 Workable 'reads through' your resume and parses the information to automatically fill in areas of the application form.
To ensure your resume is read correctly, follow these guidelines:
Use files up to 5 MB with types .pdf, .doc, .docx, .odt or .rtf.
Divide the text into clear sections and use easily readable fonts
Only include the email you want the employer to contact you at (double-check it to make sure there are no typos!)
Avoid using too many images in the document
Avoid resumes that only consist of an image (i.e. 'infographics' type of resume)
Alternatively, you can fill out the application form manually and upload your resume in the corresponding section if requested. Try to follow the above guidelines for uploaded resumes as well, since Workable will parse your details into a profile that the employer will review.