Looking for a job? Search thousands of job openings from global companies hiring right now by visiting jobs.workable.com.
The application process may vary depending on the internal processes of the company you are applying for. Workable application forms are fully optimized to work on desktop, mobile and tablet. As long as your device has a stable internet connection and a browser, you should be able to complete your application successfully.
Whether you found the job on one of the job boards, or are applying directly from the company's website, most probably, you will be asked to submit an application form that may look like the one below. Some companies might ask you additional questions, some require a cover letter, and some others might not even need a resume. Import your resume to save time and autofill areas of your application.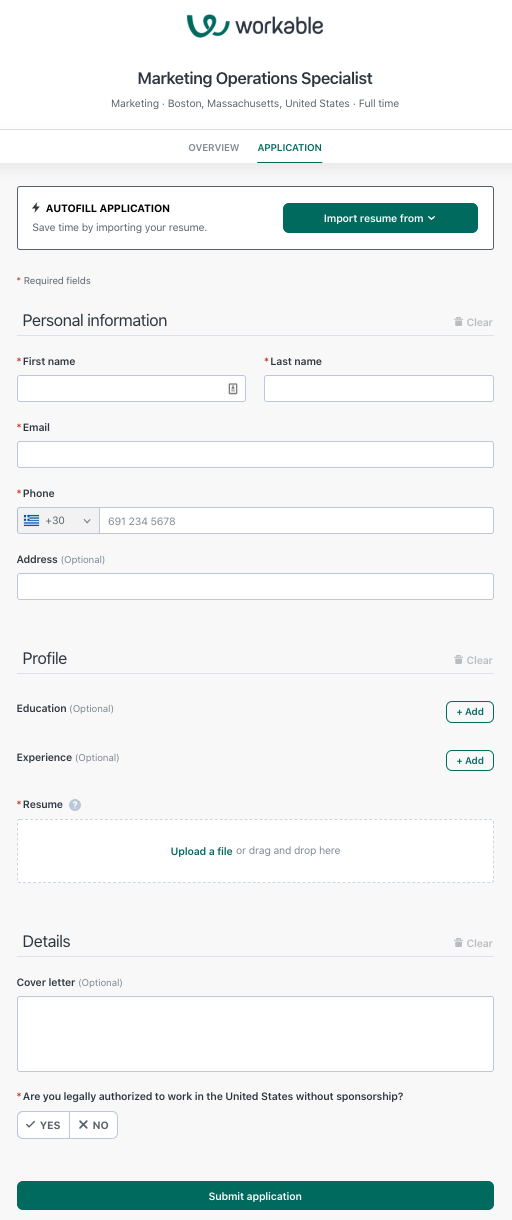 If you are applying for a job in the US, you might also be asked to fill out the EEO/OFCCP survey after completing the application.
Shortly after submitting the application, you will receive the confirmation email to acknowledge receipt of the application. The email will include details of your application, along with the replies you submitted.
If you changed your mind, you can withdraw your application by using the link at the bottom of the application confirmation email. After confirming that you want to withdraw, your data will be removed from the company's Workable account. Please note that if your application has already been taken into consideration, you will not be able to withdraw it.
Job seekers that apply to jobs within EEA where GDPR regulations apply are able to withdraw their application indefinitely.